If you happen to be in Minsk, Belarus, then try to visit MIR CASTLE!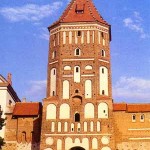 The Castle Complex Mir of the 16th–20th centuries included the castle itself, banks of earth, the English landscape park and reconstruction of the Italian garden, pond, outhouse, chapel and burial vault of the Svyatopolk-Mirskys, lodge and roadside chapel.
In the 1520s the Court Marshal Yury Il'inich began building of the castle as the family residence and fortress. Initially it was the construction with four projecting towers and the fifth entrance one in the western wall.
At the beginning of the 17th century palace buildings were attached to the eastern and northern walls. The castle was enclosed with moats and banks of earth with bastions in the corners.
Please note that all foreigners need travel visa to enter Belarus. Visa as well as travel services may be purchased at Visacenter offices in US, UK and UK .