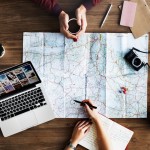 While we hope that you never need to actually use your travel insurance, having one is not only required but it's also a practice of basic common sense. Accidents do happen and often at the worst possible time. Traveling to another country can be a wonderful way to make new friends, discover new places you've only read about, and no matter your age, increase your knowledge of the world. However keep in mind that no one is invincible, and knowing that emergencies won't get out of hand can provide you with the reassurance needed by your family members who are not joining you on your journeys.
We at VisaCenter are here to provide you with several useful few tips to keep in mind in regards to your travel insurance.
You must ensure that your chosen travel insurance provider includes coverage for emergency treatments and hospitalizations. Not all carriers cover medications and physician's office visits. Those who are seeking a travel insurance that will meet such requirements should make sure that urgent medical care and emergency room visits are also covered by the insurance as a standard coverage, and not as an additional option sold separately.
Travellers often assume that costs for such insurance coverage are quite high, however, this does not need to be the case. It is possible to get a low cost travel insurance that not only is affordable for most people's budgets but that will also cover, and adequately so, any related medical costs incurred during a stay in USA, Australia, Russia, China, Africa, Schengen countries (Europe).
Your travel insurance policy number and other information should be readily available in the event that you need to present it to health providers. We recommend making a photocopy of your travel insurance documents prior to traveling. Do not wait until you need healthcare services to look for your policy in your luggage.
Your policy information should also be safeguarded to prevent fraudulent use of your insurance by scammers and other criminals at another location. It would not be cost-effective to acquire a low-cost travel insurance only to have it be misused by someone illegally. Being careless with your information can sometimes create hardships when may require to obtain travel insurance again in the future.
In addition to health and medical coverage when traveling, protecting your luggage from loss is one of your most important duties during transit. After you've arrived at your destination, finding out that another passenger has run off with your gear can be a horrible shock. Protecting the investment you've made in your gear can also be covered, making losses such as this less painful.
Another aspect of travel is discovering that cancellations do happen. Unless the fine print states that you'll receive a refund, often you'll have to wait for a replacement of what you've purchased. This can create extreme hardship especially in the case of accommodations. Cancelled flights, cancelled accommodations, and even cancelled excursions can all also be covered by travel insurance policies. While you might be able to catch another flight, or wait a few hours until the next one leaves the airport, this can cause you to lose your intended hotel room. If your hotel has cancelled, where will you stay in your destination city? A tour can easily be replaced, but finding another that will suit your needs and in the same time frame might not be found so easily.
Searching for the right policy may take some time, so starting as soon as you know you'll be needing it will take a lot of the pressure off you and allow you to find the perfect policy that covers all of your needs. As always, if you have any questions or want to get a price quote on travel insurance, call or us or simply visit at: https://www.visacenter.ca/travel-insurance#top