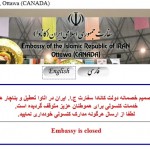 On September 07 Canada has made a decision to close its embassy in Teheran as well as requested Iran to close its embassy in Ottawa and remove its staff in 5 days period. Diplomatic relations between Canada and Iran have been suspended. All Canadian diplomatic staff has already left Iran.
It is expected that Iranian embassy in Ottawa as well as its consular section will close its doors to public this coming Wednesday, September 12. Currently the consular office has already stopped accepting all documents for visas, legalization and passports. The website of the Embassy has the CLOSED sign. Though there is no word from Iranian government on what embassy in what country will take over the consular matters from Canada, most probably it will be nearest Embassy located in Mexico. At the same time coming from the similar precedents with other countries the Iranian mission at the UN in New York may take over all or some of the duties as well.
Canadians in Iran seeking help with consular and passport services have to contact the Canadian embassy in Ankara, Turkey. Recently relations between Turkey and Iran has deteriorated as well and visa regime between the two countries has been re-introduced.
Visacenter.ca will be monitoring the developments and will re-start providing Iranian visa and legalization services as soon as situation clears.