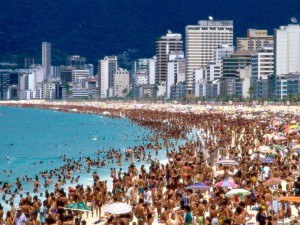 Brazil is one of the countries where you can celebrate New Year eve in style. Among the various cities in Brazil, Rio de Janerio is the best place to celebrate 31st December. Rio is an ideal New Years Evening destination for families and couples. Rio is known as the party capital of the world. So you can expect to have an unforgettable experience if you celebrate New Year in Brazil. There are various ways that you can celebrate New Year's Eve in Rio, you can enjoy yourself at the best beach parties, night clubs, go shopping, and dine at some of the finest restaurants in town.
1. Best beaches in Rio
Most of the New Year celebrations in Rio de Janerio, begins on Copacabana beach. Thousands of people gather together on Copacabana beach to celebrate the arrival of the New Year. On this famous beach you will find the best combination of music and dance parties till early in the morning. You will see many dance performances and concerts and get to watch unforgettable fireworks display that consist of 11 barges with 1200 fireworks. You can enjoy four different stages of firework with different background music on every stage. You can also enjoy the same party scenes at the Ipanema Beach and Itacimirim beach where you will find scenic decorations and illumination. You can dance to the tunes of many professional DJ's and enjoy the fireworks also.
2. Best places to go for shopping in Rio
Rio de Janario is one of the best places to purchase many unique and rare items. Rio has many shopping malls, stores and stalls where one can spend hours buying gift items for their loved ones. The main market of Rio is a great place for both youngsters and elders to go shopping where you can buy a variety of sunglasses, clothes and jewelry item. Brazilian football teams t shirts are one of the most popular products among the youth. In Rio you can see many interesting places to go for shopping. You can purchase many varieties of clothes, beachwear, arts and crafts. You can purchase many Brazilian traditional items which you can use to decorate your house. Some of the popular shopping spots are Rio Sul Shopping Center, Botafogo Praia Shopping mall where you can find amazing New Year eve discounts.
3. Fine dining spots in Rio
If you are a person who enjoys fine dining, then you can find many restaurants in Rio which will offer you many varieties of cuisines. You can see many 3 star or 4 star hotels which are very close to Copacabana and Ipanema beaches, where you can enjoy the beach view and your food. Some of the best spots to dine out are the Copacabana Palace Hotel, which is close to Copacabana beach and Praia Ipanema Hotel which is close to the Ipanema beach. Many hotels serve food on terrace, so you can clearly enjoy sea view, large crowd and grand celebration. There are many luxurious hotels where you can stay and enjoy the celebration. Every hotel provides all types of payment mode for flexibility of payment. Some other great places to eat out are the Cipriani restaurant and Pérgula Restaurant.
4. Best night clubs in Rio
Rio has many night clubs attached with restaurants. You can get the tickets or entry passes along with your food with some great discount offers also. In night clubs you can enjoy music played by professional DJ's and music of drums, the traditional musical instrument of Brazil. Some night clubs arrange for a separate drum performance for you. Some great Night clubs in Rio include the Jockey Club, Copacabana Palace, Intercontinental Hotel.
Rio is an amazing place for making your New Year celebration fantastic and unforgettable.
To enjoy your 31st December night, you must visit Rio de Janario and see what really makes Rio the party capital of world. To get to Brazil you need visa if you are US or Canadian passport holder. This can be easily accomplished by using the expert services at one of Visacenter offices in US or in Canada. As it is high season, book your flight as soon as possible to get better rates.